Glenglassaugh launches first ever wood finishes
Our coastal distillery which was once forgotten, now re-awakened, has unearthed a Limited Release series of contemporary Highland Single Malt Scotch whiskies, offering a unique voyage of discovery into a distillery reinvigorated. The latest additions to our series represent a new chapter for Glenglassaugh and include our distillery's first ever wood finish expressions. The wood finishes series features four distinct styles: a Port Wood Finish, a Peated Port Wood Finish, a Pedro Ximinez Sherry Wood Finish and a Peated Virgin Oak Wood Finish.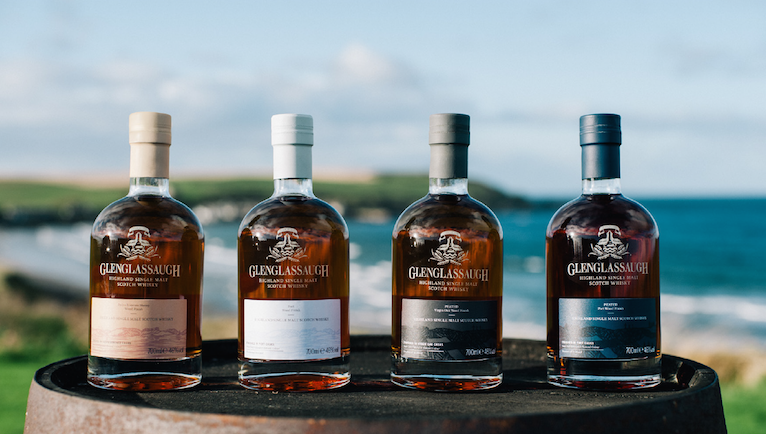 Glenglassaugh Whisky Maker Rachel Barrie said:
"The release of Glenglassaugh's first ever Wood Finish range marks a new chapter for this elemental distillery. As surf crashes on Sandend Bay and invigorating North Sea air passes through our warehouses, Glenglassaugh matures first in American ex bourbon casks, before changing course in either Virgin Oak, Pedro Ximenez or Port wood, on a voyage shaped by the sea."
"From the sweet earthiness of our peated spirit enlivened by American Virgin Oak, to luscious full-bodied sweetness intensified in casks of Pedro Ximenez; from the tempestuous waves of fruit and smoke bottled as Peated Port Wood, to the sublime elemental fruit and freshness of Glenglassaugh Port Wood. I look forward to sharing this multi-dimensional voyage along our elemental coast."
The four releases include:
PEATED VIRGIN OAK WOOD FINISH
The sweet earthiness of our coastal peated spirit is brought to life in Peated Virgin Oak Wood Finish. During finishing in American Virgin Oak casks, Glenglassaugh is shaped by intense notes of candy and fresh spice, as if a sweet shop by the beach, spiced by land and sea.
Colour: Antique gold.
Nose:Creamy vanilla with toasted oak spice flows over candy store confectionery and crisp freshly peated barley.
Palate: Crisp oak and hints of candied ginger, boiled sweets and brittle toffee, all surrounded by the most deliciously sweet peat smoke.
PEDRO XIMENEZ SHERRY WOOD FINISH
The luscious sweetness of our full-bodied spirit is intensified in Pedro Ximenez sherry wood finish. Known as the 'King of sherries', PX is a sweet, dessert sherry, made by the sun-dried PX grape, known for its unctuous raisiny character. During finishing, the PX cask imbues Glenglassaugh with sun-dried warmth, reminiscent of a richly baked fruit dessert, spiced by the sea.
Colour: Harvest gold.
Nose: Loaded with creamy vanilla and hints of white pepper over caramelised orchard fruits.
Palate: A dusting of vanilla-infused Demerara sugar over pear tarte Tatin, finished with a cedar wood spice and rich, sweet barley.
PEATED PORT WOOD FINISH
Glenglassaugh's waves of fruit and smoke are amplified in Peated Port Wood Finish. Whilst finishing in ruby Port pipes, the open structure of the oak brings waves of velvet tannins and peppered dark fruit, reminiscent of Winter berries by an open fire, kissed by the sea.
Colour: Rose gold.
Nose: Heather honey drizzled over a medley of fresh red fruits, all backed by intriguing waves of sweet peat smoke.
Palate: Delicious wild red berry compote and clotted cream balanced by a hint of cracked black pepper, surrounded by a fantastic sweet campfire peat note.
PORT WOOD FINISH
The elemental freshness of our coastal spirit is invigorated in Glenglassaugh Port Wood finish. Whilst finishing in ruby Port pipes, the oak's open structure combines with the influence of the sea, as waves of dark fruit ebb in synchrony with fresh mint and fruit zest. For a moment, you may find yourself picking berries in a herb garden, enlivened by the sea.
Colour: Pure copper.
Nose: Delightful aromas of brittle toffee, blueberries and a touch of garden mint. Gentle allspice adds a delicate warmth to the nose.
Palate: Vibrant pink grapefruit and blood orange give a fantastic fresh, zest character. A slight herbal oak background leads to stewed barley in the long, crisp
finish.
To keep up to date with all the latest news why not find us on Facebook and follow us on Twitter.