Master Blender Dr. Rachel Barrie Inducted As Keeper Of The Quaich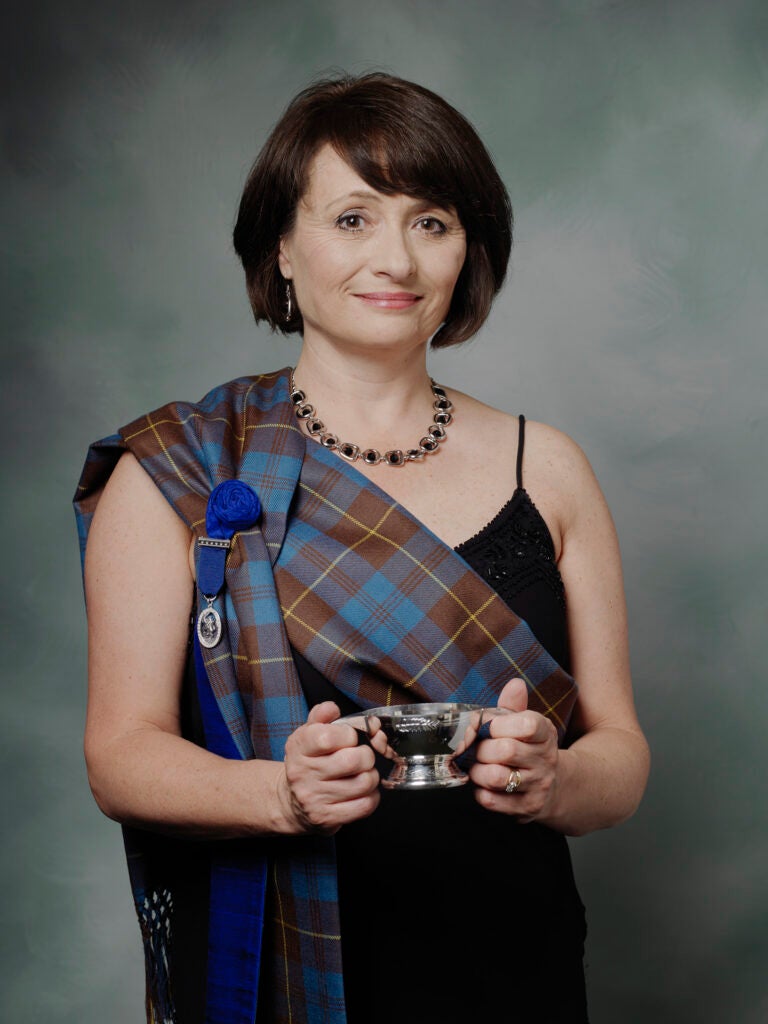 One of the world's top whisky Master Blenders, also known as the 'First Lady of Scotch', has been recognised with one of the industry's most prestigious accolades by being inducted as a 'Keeper of the Quaich' at a private ceremony held at Blair Castle last night.
With over 27 years of experience in the industry, Dr. Rachel Barrie is the Master Blender for Brown-Forman's Scotch Whisky portfolio of The GlenDronach, BenRiach and Glenglassaugh. Last year, Rachel was the first female Scotch whisky Master Blender to receive an Honorary Doctorate and be inducted into Whisky Magazine's illustrious 'Hall of Fame'.
At The GlenDronach, BenRiach and Glenglassaugh distilleries, Rachel is responsible for developing, testing and expertly fine-tuning each distillery's unique signature character and range of expressions. Throughout her career, Rachel has tasted in excess of 150,000 casks of Single Malt Scotch Whisky, which continues to boom in exports with overseas category sales growing 7.8% by value to £4.7bn last year.
The Keepers of the Quaich is an international society established by the Scotch whisky industry to celebrate the outstanding commitment of those who produce and promote the world's finest distilled spirit. Only a small number of people are nominated for the title for showing extraordinary dedication to and passion for their craft.
Originally from Inverurie in Aberdeenshire, an area rich in Scotch history, Rachel was long destined for a career in Single Malt whisky creation. After studying chemistry at the University of Edinburgh, she began as a research scientist at the Scotch Whisky Research Institute. She then moved into production at The Glenmorangie Company, becoming Master Blender in 2003. During this time Rachel also managed the stocks for the Scotch Malt Whisky Society, before moving to Morrison Bowmore Distillers with Bowmore, Auchentoshan and Glen Garioch, working latterly with Laphroaig and Ardmore. Rachel was appointed as Master Blender for Brown Forman's Single Malt portfolio in 2017, then in 2018 was awarded an Honorary Doctorate of Science from Edinburgh University as well as being inducted into the Whisky Hall of Fame.
Commenting on the appointment to the international society, Dr. Rachel Barrie said:
"Being inducted as a Keeper of the Quaich is a very proud moment in my career. The society brings together those leading the way in Scotch whisky from all corners of the world, and to be part of this highly revered body is an honour, as we continue to push boundaries in perfecting our magnificent spirit."
"My ambition has always been to unlock the secrets of Scotch whisky making and provenance, to develop and nurture richness of character and celebrate it with the world; it's an honour to be recognised for this and to be in such esteemed company."
Annabel Meikle, Director at Keepers of the Quaich added:
"The ceremony and banquet at Blair Castle for new Keepers of the Quaich is a true celebration of Scotch whisky, and we are proud to welcome new Keepers into the Society in recognition of their incredible service to the industry and wealth of knowledge. I often think of the Society as the most inclusive yet exclusive whisky club in the world, and it's always a great moment to see new inducted Keepers becoming recognised for their prestigious work in the Scotch whisky industry."