The BenRiach Distillery Company wins 'Whisky Distiller of the Year'
December 10, 2014 12:00AM
THE BenRiach Distillery Company is the 2015 "Whisky Distiller of the Year".
The Edinburgh-headquartered company, owners of the award-winning BenRiach, GlenDronach and Glenglassaugh single maIts, received the prestigious accolade at the "Icons of Whisky Scotland 2015" Awards presented by Whisky Magazine.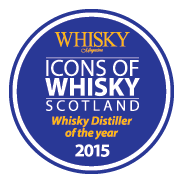 The "Icons" reward the people and places behind Scotland's great whiskies, celebrating companies and individuals for their significant contribution to the Scotch whisky industry.
In 2004, whisky veteran Billy Walker and his two South African partners Geoff Bell and Wayne Kieswetter purchased BenRiach, turning it into one of Scotland's most admired distilleries. GlenDronach distillery, Glenglassaugh distillery and a large bottling plant at Newbridge followed. All three distilleries produce unique whiskies with extraordinary depth, balance and character.
Billy Walker said: "It is a fantastic achievement for a privately-owned, independent company to win the award for "Whisky Distiller of the Year". I'm delighted that it both recognises the creative and innovative things we have been doing at our three distilleries over the last ten years and salutes the high-quality team we have built."
Mr Walker added: "We will continue to introduce our wonderful portfolio to new markets. Currently we are trading in some 40 countries worldwide with other emerging markets entering the negotiation stage, so the future for all our brands is tremendously exciting."
The "Icons of Whisky Scotland 2015" cap a very successful year for the BenRiach Distillery Company. In August the company posted record pre-tax profits of £8.9m for 2013 boosted by unprecedented demand for its high-end whiskies in Asia, North America, Russia and Europe.